Helping couples sort out a timeline for their big day is one of the MANY parts of the wedding your photographer assists with. One of the key parts to determining a timeline always starts with the question: Do you want to do a first look? Often my couples either don't know what that means or they don't know the pro's and con's of doing a first look with their partner.
A first look is when you and your significant other set aside some time for a combo of staged and candid moments to see each other before the wedding ceremony takes place. This time allows you to see each other at your absolute best once you've finished getting ready, show off your gorgeous wedding day attire to each other, and to preserve the genuine, authentic reactions and emotions of having this special time together before the day starts.
So why should you consider doing a first look?
- Get quality time with your partner without all the stress!
First looks are an amazing, intimate moment that are all about the stars of the day. It gives you a moment to breathe with your partner and truly enjoy each other on what will be one of the biggest, most important days of your life together. This relaxed, quiet moment together will also allow you to reel back the jitters if you are nervous about being in the spotlight all day or get nervous with crowds. Let the anxiety take a back seat so you can get some quality one-on-one time with your partner and feel relaxed for the rest of the photos taken throughout the day.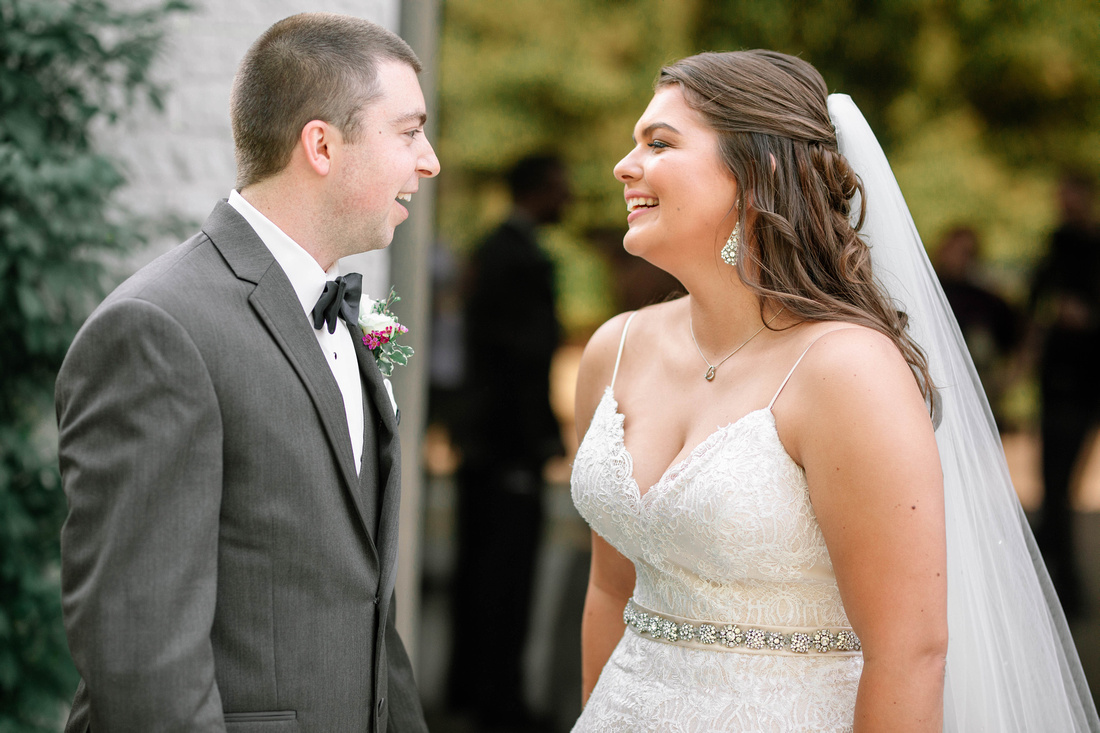 - Spend more time with your guests!
Family, bridal party, and couples shots done prior to the ceremony taking place allow you to have time to attend your cocktail hour and get quality time with your nearest and dearest.
- Get more photos!
Doing a first look earlier in the day gives you a wider scope of time to work with to get portraits taken with your partner, your wedding party, and your families. It also frees up your photography team to get more images of your guests attending cocktail hour, candid shots, and extra images of you with other groups that may not merit being in a formal shot at the alter (like the besties from high school or the work crew) but you still want to get a few fun pictures with.
It is also particularly helpful to do a first look if you are having a fall or winter wedding as we lose sunlight so much earlier in the day. If you want to have lots of naturally lit images of your wedding party, portraits with your partner, family, etc, in Ohio we lose most of our sunlight around 5:00-6:00pm starting in mid-October through early March. Doing a first look will help you to not worry about timing as much, worrying about having an early ceremony with a long amount of time in between until the reception takes place, or trying to cram some of your most important photography into a short window of time.
Aside from doing a first look with your partner, we have also done variations of the first look depending on who you would like involved in this special reveal! We have shot first looks with:
- dad
- mom
- the bridal party
- existing children in the relationship
- your dog (EEP!)
- grandpa
- siblings
Remember, above anything else, the day is yours to plan how you see fit and design a timeline that works best for your interests and values. Doing a first look (or not!) is an important choice to make and should be discussed in advance with your partner or other special participants in addition to being mapped out with your photographer. We are always here to help plan out the best location to hold a special reveal and help you decide if doing a first look is beneficial to your timeline!